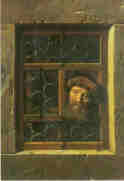 semper idem
Ano XIII
...M'ESPANTO ÀS VEZES , OUTRAS M'AVERGONHO ...
(Sá de Miranda) _________________
correio para
jppereira@gmail.com
_________________
7.11.05

EARLY MORNING BLOGS 640

A City Winter 5

I plunge deep within this frozen lake
whose mirrored fastnesses fill up my heart,
where tears drift from frivolity to art
all white and slobbering, and by mistake
are the sky. I'm no whale to cruise apart
in fields impassive of my stench, my sake,
my sign to crushing seas that fall like fake
pillars to crash! to sow as wake my heart

and don't be niggardly. The snow drifts low
and yet neglects to cover me, and I
dance just ahead to keep my heart in sight.
How like a queen, to seek with jealous eye
the face that flees you, hidden city, white
swan. There's no art to free me, blinded so

(Frank O'Hara)

*

Bom dia!
(url)
---
© José Pacheco Pereira