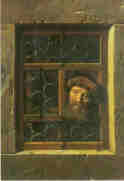 semper idem
Ano XIII
...M'ESPANTO ÀS VEZES , OUTRAS M'AVERGONHO ...
(Sá de Miranda) _________________
correio para
jppereira@gmail.com
_________________
21.2.12

2168
- Senlin: His Futile Preoccupations 1

I am a house, says Senlin, locked and darkened,
Sealed from the sun with wall and door and blind.
Summon me loudly, and you'll hear slow footsteps
Ring far and faint in the galleries of my mind.
You'll hear soft steps on an old and dusty stairway;
Peer darkly through some corner of a pane,
You'll see me with a faint light coming slowly,
Pausing above some gallery of the brain . . .

I am a city . . . In the blue light of evening
Wind wanders among my streets and makes them fair;
I am a room of rock . . . a maiden dances
Lifting her hands, tossing her golden hair.
She combs her hair, the room of rock is darkened,
She extends herself in me, and I am sleep.
It is my pride that starlight is above me;
I dream amid waves of air, my walls are deep.

I am a door . . . before me roils the darkness,
Behind me ring clear waves of sound and light.
Stand in the shadowy street outside, and listen—
The crying of violins assails the night . . .
My walls are deep, but the cries of music pierce them;
They shake with the sound of drums . . . yet it is strange
That I should know so little what means this music,
Hearing it always within me change and change.

Knock on the door,—and you shall have an answer.
Open the heavy walls to set me free,
And blow a horn to call me into the sunlight,—
And startled, then, what a strange thing you will see!
Nuns, murderers, and drunkards, saints and sinners,
Lover and dancing girl and sage and clown
Will laugh upon you, and you will find me nowhere.
I am a room, a house, a street, a town.
(
Conrad Aiken)
(url)
---
© José Pacheco Pereira