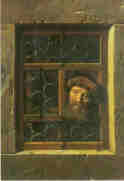 semper idem
Ano XIII
...M'ESPANTO ÀS VEZES , OUTRAS M'AVERGONHO ...
(Sá de Miranda) _________________
correio para
jppereira@gmail.com
_________________
22.12.11

EARLY MORNING BLOGS
2125 -
Resolution And Independence
He told me that he to this pond had come
To gather Leeches, being old and poor:
Employment hazardous and wearisome!
And he had many hardships to endure:
From Pond to Pond he roam'd, from moor to moor,
Housing, with God's good help, by choice or chance
And in this way he gain'd an honest maintenance.

The Old Man still stood talking by my side;
But now his voice to me was like a stream
Scarce heard; nor word from word could I divide;
And the whole Body of the man did seem
Like one whom I had met with in a dream;
Or like a Man from some far region sent;
To give me human strength, and strong admonishment.

My former thoughts return'd: the fear that kills;
The hope that is unwilling to be fed;
Cold, pain, and labour, and all fleshly ills;
And mighty Poets in their misery dead.
And now, not knowing what the Old Man had said,
My question eagerly did I renew,
"How is it that you live, and what is it you do?"

He with a smile did then his words repeat;
And said, that, gathering Leeches, far and wide
He travelled; stirring thus about his feet
The waters of the Ponds where they abide.
"Once I could meet with them on every side;
But they have dwindled long by slow decay;
Yet still I persevere, and find them where I may."

While he was talking thus, the lonely place,
The Old Man's shape, and speech, all troubled me:
In my mind's eye I seem'd to see him pace
About the weary moors continually,
Wandering about alone and silently.
While I these thoughts within myself pursued,
He, having made a pause, the same discourse renewed.

And soon with this he other matter blended,
Chearfully uttered, with demeanour kind,
But stately in the main, and, when he ended,
I could have laugh'd myself to scorn, to find
In that decrepit Man so firm a mind.
"God," said I, "be my help and stay secure;
I'll think of the Leech-gatherer on the lonely moor."
(William Wordsworth)

 
(url)
---
© José Pacheco Pereira