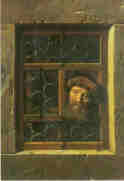 semper idem
Ano XIII
...M'ESPANTO ÀS VEZES , OUTRAS M'AVERGONHO ...
(Sá de Miranda) _________________
correio para
jppereira@gmail.com
_________________
16.12.11

EARLY MORNING BLOGS
2122 -
Resolution And Independence
There was a roaring in the wind all night;
The rain came heavily and fell in floods;
But now the sun is rising calm and bright;
The birds are singing in the distant woods;
Over his own sweet voice the Stock-dove broods;
The Jay makes answer as the Magpie chatters;
And all the air is fill'd with pleasant noise of waters.

All things that love the sun are out of doors;
The sky rejoices in the morning's birth;
The grass is bright with rain-drops; on the moors
The Hare is running races in her mirth;
And with her feet she from the plashy earth
Raises a mist; which, glittering in the sun,
Runs with her all the way, wherever she doth run.

I was a Traveller then upon the moor;
I saw the Hare that rac'd about with joy;
I heard the woods, and distant waters, roar;
Or heard them not, as happy as a Boy:
The pleasant season did my heart employ:
My old remembrances went from me wholly;
And all the ways of men, so vain and melancholy.
(continua.)
(William Wordsworth)
(url)
---
© José Pacheco Pereira